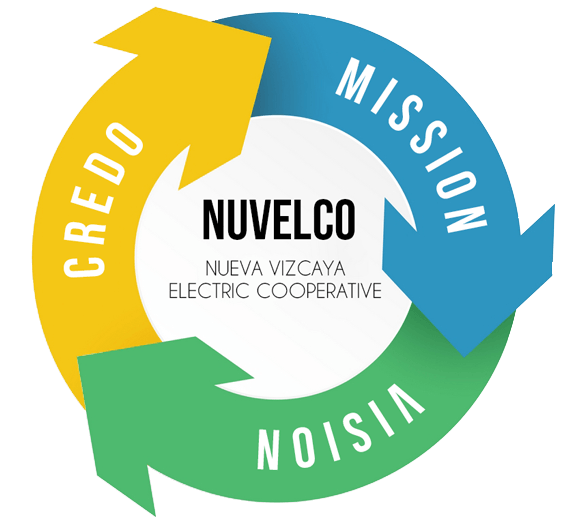 Mission
The mission of NUVELCO is to provide reliable and affordable electric service throughout the coverage area with the highest standards of efficiency and effectiveness, geared towards sustainable socio-economic development of Nueva Vizcaya, consistent with the national government's program of country side development.
Vision
We are commited to the vision of nuvelco as a vaible, self- reliant electric cooperative that delivers effective, efficient and affordable service to all its member-consumers whose support ensures the socio-economic and sustainable development of Nueva Vizcaya.
Credo
We believe in God, the Father Almighty, source of all wisdom, whose unending love and generosity inspire everyone of us to have the courage to render selfless service to our fellowmen;

We believe that the Filipino is a class by himself; peace-loving; resilient; resourceful, and above all gifted with the capacity to surmount all obstacles that may stand in his way;

We believe in a democratic way of life realize through the empowerment of people towards the vision of progress, peace and justice for all;

We believe that the electrification of the countryside as a strategy for economic and social development can be achieve through the spirit of cooperativism and empowerment;

We believe that NUVELCO plays, and will continue to play, a critical role in the socio-economic development of Nueva Vizcaya by achieving its corporate vision through unwavering commitment of its personnel;

We believe that the employees of NUVELCO are united under a common vision with their potentials commited for the good of the nation;

And for all these, we pledge our best to perform our duties, fully aware of the contributions we can share for the welfare of our constituents.