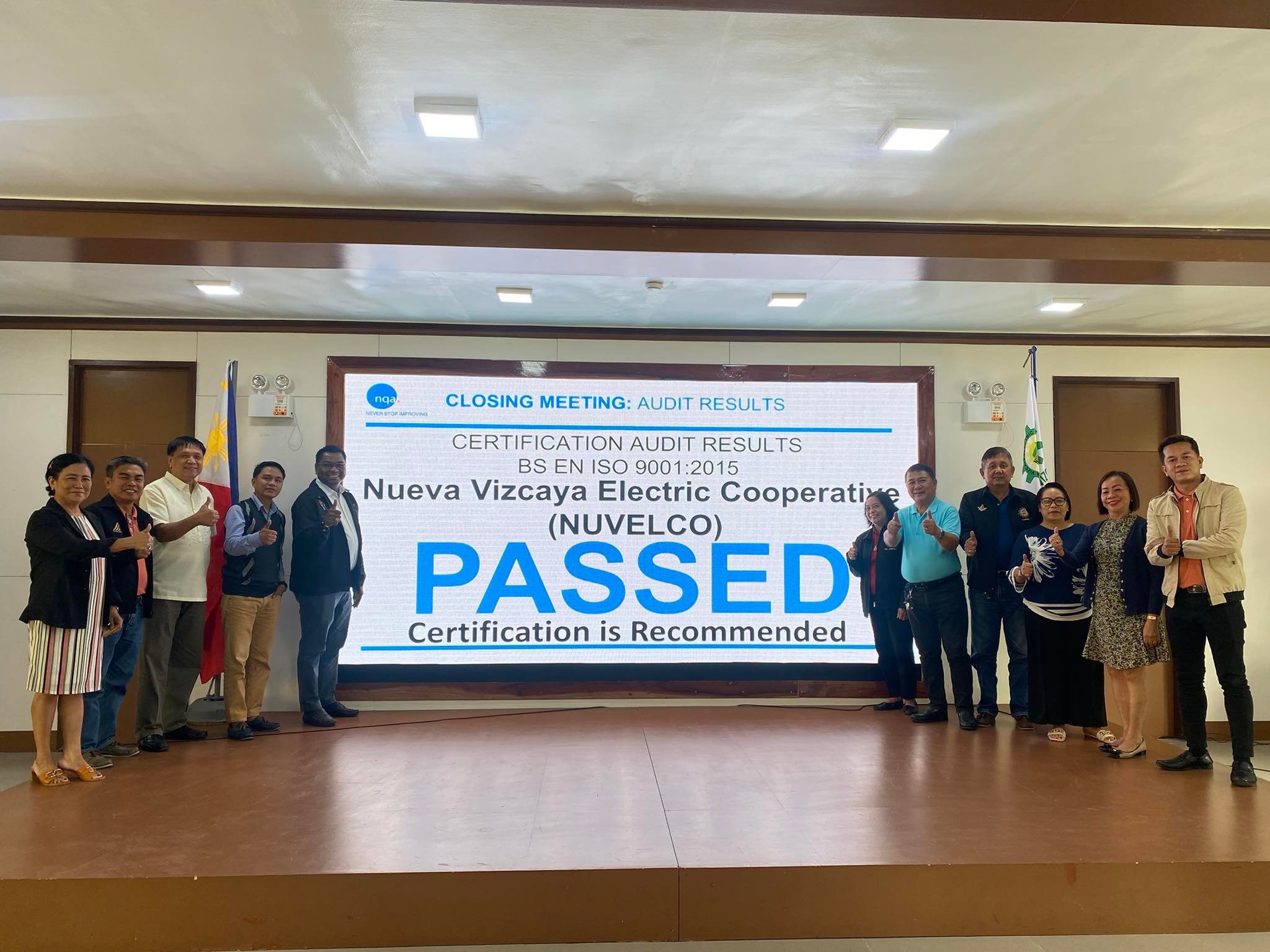 NUVELCO successfully PASSED the ISO Standards Certification Audit ISO 9001-2015 QMS with Zero Major Non-Conformance.
This feat is a result of almost a year of preparation, documentation, internal audit of process, and series of management review. NUVELCO management have initiated this certification to sustain and improved efficiency, productivity, and customer satisfaction.
GM Fredel Salvador, during his speech on the closing meeting and announcement of audit results, expressed his appreciation to all the workforce of NUVELCO for actively participated and supported the journey to ISO certification.
NUVELCO sustains its Quality Management System (QMS) effectiveness which reaffirms the coop's compliance to international standards of service and continue aiming and achieving excellence#
GLOBALIZATION is heralding changes in the electric industry and the Nueva Vizcaya Electric Cooperative (Nuvelco) embarks on this new century movement to cope up with competition and demand for better service.

The Energy Regulatory Commission (ERC) lauded the Nueva Vizcaya Electric Cooperative and a number of Electric Cooperatives (ECs) that do not collect Bill Deposits from its customers. 

As a result of the recent audit and evaluation conducted by the ERC, it found out that Nuvelco is among those electric cooperatives not collecting bill deposits as compared with Meralco and other neighboring distribution utilities.  Based from records, ERC found that the distribution utilities, both private utilities and ECs, have collected an aggregate amount of approximately PhP26.280 Billion as of 23 January 2019 as Bill Deposits. 
The Nueva Vizcaya Electric Cooperative (Nuvelco) proved its continued mission of providing a reliable and efficient electric service in the province of Nueva Vizcaya as it recently commissioned and energized its newly built 10 MVA substation and 69 kV subtransmission line.

These improvements in the distribution system of Nuvelco aims to address power interruptions, low voltage and system loss.  It is expected that with the energization of said facilities, households in the far-flung areas would expect a stable 210 to 220 volts.